As always, you are inspiring us. You are inspiring your community, your friends and family! You are doing so many good things, random acts of kindness, working harder than ever, and pushing through something none of us ever planned.  We want to applaud you and share your story with others.
The good thing about inspiration?
It's contagious. It spreads. Hopefully you catch it. Hopefully you spread it.
Inspiring Awards Winner : Johanna Grange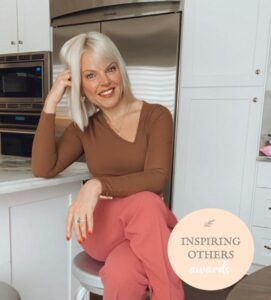 Why was Johanna nominated for the "Inspiring Others Award"?
Johanna is a bold, beautiful, hard-working, mom, businesswoman and advocate for body positivity. She's blazing the trail for our daughters, sons and ourselves, to love and accept our bodies, all shapes and sizes. While she runs a successful digital and social media marketing agency, Oak Street Social, she still finds time to share and inspire others with her personal Instagram account @jogrange, where she is real, authentic, vulnerable and inspiring!! 
Johanna's IG account shares personally her journey with IBS and works to normalize the bloat while inspiring style, beauty and body positivity. Johanna's mantra? "All tummies are beautiful." 
But, if you thought she stopped there — you'd be wrong. She is in the midst of starting a t-shirt couture line that will not only convey positive messages about the body (There's no weight limit on beauty!), but will be donating back to non-profit causes supporting mental health and disordered eating. 
We are grateful for Johanna inspiring US and future generations, with your body positivity messages!!! We are honored to nominate you for our "Inspiring Other's Award" (Cue the confetti drop). 
We sat down for an interview with Johanna.
Here's her inspiring story for YOU!! 
Entrepreneurialism is part of my DNA and my father led by example. I grew up in the Northwest suburbs of Chicago and had a pretty nice life. I continued on to University of Iowa and graduated with a double major in journalism and english and a minor in the performing arts. I moved to Chicago quickly after graduating and took several jobs in the marketing world including an advertising agency before I finally moved my interests to the digital world. I've worked in the tech industry, the beauty industry and now, my partner and I've owned and operated Oak Street Social for the last eight years. Oak Street Social is my third child.
In my personal life, I am the mother of two vivacious and charismatic little girls and the wife to one amazing man. We live on the northshore. I've always had a creative side hence I've owned and maintained my blog for the last 11 years leading me towards a strong passion for social media and maintaining my personal brand. I love to create content and empower women to appreciate the bodies they live in right now. A huge part of that is finding a way to give back to the community which is my current project; the launch of my Body Positivi-tee Capsule featuring t-shirts and mugs that give back to the Renfrew Foundation. Praying this goes well so we can keep it going.
What challenges have you overcome to get where you are now?  How have you grown as a person?
 So many! I've grown up with a non-clinical diagnosed eating disorder, I've lost a dear friend to suicide, I've faced a ton of rejection, I got married and divorced very young and with that lost many friends. While I know people have it far worse…these were pretty traumatic experiences for me. Each experience has had a positive impact on my life in that it taught me to grow thicker skin, appreciate the small moments, empathy, kindness and so much more. Without these experiences, I wouldn't be who I am today. The kindness was a big one for me.
What are you most proud of in your journey?
 I am most proud of my second marriage, the work we put in and the two beautiful girls we are raising. 
What worries or struggles do you face today? 
 Right now, I worry that my new capsule project won't sell out or that it will fail.
Beyond that, I worry about my daughters' confidence levels and that they never experience bullying. I worry about my business growing and thriving year over year. I worry that my social content is not compelling enough. I worry about traveling for the first time in two years. I worry about money. All of it!
What is some advice you'd like to give your younger self, or other people along their journey?  
 Do not worry about what others think of you. You have to let it go. What they think is none of your business. 
Thank you Johanna!!!  
Do you know someone who should share their inspiring story??
Submit your entry here
 We want to share as much inspiration with the world as possible.
Thanks to you, friends. You are all inspirations in your world. Keep it up. Inspiring one person liberates them to be their best self and inspire someone else. It's a contagious movement, we want to keep spreading!