Meet, Kelly Gingrich!!
Kelly is currently accepting new clients, with daytime and afternoon availability and accepts BCBS, UnitedHealthCare, Humana, and Aetna!!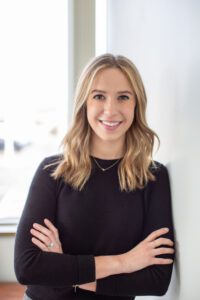 Where are you from? 
I grew up in Ithaca, New York, a small college town in the middle of the state. After graduating from college, I spent 5 years living and working in New York City. I moved to Chicago with my husband, Matt, in June 2020.
What do you do for fun (hobbies, pets, adventures, etc.)?
I love to travel and have been lucky enough to go on some incredible trips over the years, including adventures in Bali, Singapore, Italy, Greece, France, and Israel! When at home, favorite weekend activities include, hiking, playing tennis, and enjoying time along the Chicago lakefront! I don't mind being a homebody either and can often be found on the couch with a good book and my cat, Lilo.
What's your favorite inspirational quote, song, or book? 
I've always been an avid reader, so my favorite book often changes with the season. Most recently, I loved "Maybe You Should Talk to Someone" by Lori Gottlieb. Although written by a therapist, it's a touching (and funny!) read for anybody looking for a peek into the power of therapy and the stories behind therapists and their clients alike.
Who do you love working with (ages, genders, types of people)?
I love working with anybody and everybody – I welcome all identities and backgrounds! I have a particular passion for working with adolescents, young adults, and individuals of all ages going through life transitions. Periods of change can be incredibly difficult to navigate, but receiving unconditional support and coming out the other side with more confidence, resilience, and hope is a wonderful feeling.
What is your favorite thing to help people overcome? (anxiety, disordered eating, depression, perfectionism, etc.)? 
My specialties are anxiety, depression, and navigating life transitions. I also work with body image and disordered eating, self-esteem, sports and academic anxiety, and relationship issues.
What is your approach to therapy, what's your vibe?
My number one priority is the relationship with you! I believe building a safe, supportive, and judgment-free environment is key for any therapeutic approach. I take an eclectic approach to therapy, utilizing tools from CBT, DBT, psychodynamic therapy, and positive psychology, among others. We will collaborate to explore the root of the problems, identify unhealthy thought patterns and beliefs, and develop healthy coping skills. Although I take our work seriously, I believe in keeping a sense of humor – therapy can be extremely hard but also fun and rewarding!
What excites you most about your job? 
I get so much joy seeing my clients making progress and feeling better. There's no better feeling than seeing you light up with hope or excitement in session after going a period of physical, emotional, or mental struggle. Experiencing that positivity, even for a moment, can be a huge step forward for many.
What inspired you to become a therapist/counselor?
I've always known that I wanted to have a career that helped others and made a positive difference. It wasn't until my own personal experience attending therapy as a freshman in college that I discovered the underlying passion I had for the field. I realized I wanted to provide to others the same support, encouragement, and belief in oneself that I received. My path came full circle when I trained as a therapist at Fordham University while in grad school. Now I'm excited to bring that same passion and experience to Inspire Counseling!
To book a session with Kelly, contact (847) 919-9096 ext 1 or [email protected]